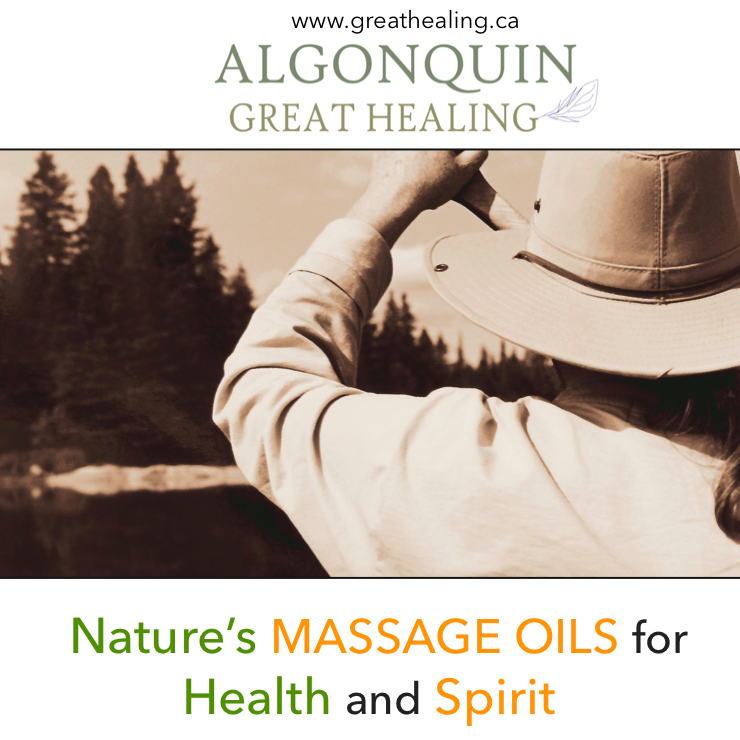 Algonquin Great Healing
Address: 6650 Highway 127 Box 148 Whitney, ON, K0J2M0
Phone: 613-332-8846
About Us
At Algonquin Great Healing we make Nature's Massage oils for Health and Spirit - healing botanical ingredients that help the body deal with chronic conditions such as arthritis and other inflammation. Also for sudden trauma and injury to the body or just daily overuse of the joints and muscles. Other products include Soothing Salve beeswax lip balm; BUGGED a natural bug repellent, Good for You moisturizing hand sanitizer, Healthy Home essential oil air freshener/cleaner, Glow like Rose aloe vera face cleanser, SAVE FACE anti-aging moisturizer; various massage oils for relaxation and healing: ylang ylang, orange, lemongrass, eucalyptus, frankincense & myrrh.

Medicinal oils are grown on our land as uncertified organic. What we don't grow is from local suppliers or sustainably wild harvested. Essential oils are sourced from reputable ethical companies around the world. No chemicals. No GMO. Just simple goodness. Why use artificial when there is authentic healing from nature at our fingertips.

Plastic bottles are recyclable PETE. Where possible we use amber or blue glass bottles. For local customers in the Whitney area we offer refills at a discounted price. This helps reduce costs for the customer and less plastic and garbage for the earth.

Due to the supply chain issue sometimes bottles and jars are not available so a substitute is used.