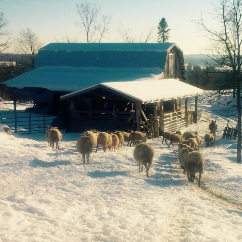 Bonnechere Lamb
Address: 595 Fourth Chute Rd. Douglas, ON, K0J 1S0
Phone: 613-585-6804
About Us
Product Types: Lamb whole or by the side. Lamb roasts, chops, ground, liver, heart and kidneys. Boned mutton roasts and ground mutton

About Us
We have been raising sheep since the 1980s. The ewes are free to roam during the spring, summer and fall months when pasture is available. The rest of the year they eat, free choice, the best hay we can supply and live either in the barn or outside - their choice. To ensure they have quality pasture and to reduce the possibility of parasite infection we rotate the sheep on six pastures throughout the summer. This allows each pasture to rest and regrow for four to five weeks before being used again. We do not administer antibiotics to the total flock but we will give an animal antibiotics if they require it for injury or sickness. We do keep records on our animals and if you want one that has never had antibiotics we can accommodate your wishes.

Whole or Half Lambs
Purchasing the whole lamb(whole ~50lb) or half a lamb(side ~25lb): A whole lamb will fit into a box of 24 beer with the sides up. If you would like the convenience of having lamb available when you want it - this is your best option. The other advantage to buying a whole/half lamb is that you can choose exactly the cuts that you want. e.g. the shoulder can be prepared as a roast (boned or rolled) or chops or stew or ground. If I sell you pre-cut lamb it will be a boneless roast but if you order early and are willing to wait a month you can have it cut up the way you want.
Mutton
We also sell mutton roasts and ground mutton. Mutton roasts are excellent for long (2-6hr) slow braising as in curries or stews. The ground mutton is a superior product for hamburgers, curries or meatballs in that it is usually leaner than ground lamb. We generally have a good supply of mutton cuts available throughout the year.
Lamb roasts and chops
We have a select number of the most popular lamb cuts available throughout the year. See below in the list of "products for sale" for the exact cuts we carry.
Practices
Practices (our standards for raising or making our products)
We are very fussy about what our sheep eat. We compost the manure and eventually return it to the fields and each spring we do additional frost seedings to increase the nutrient level of the pasture. We have one or two lambings in early and sometimes late spring. The ewes normally lamb on the hillside and then are brought into lambing pens until mother and lambs are bonded. At this time they are put into a common area in the barn and then later released back with the rest of the ewes. Ewes and lambs are kept as a single flock until late summer at which time the non-castrated ram lambs are removed. Ours is a not a purebred flock. Originally it was mainly Suffolk but having used Rideau Arcott rams for the last 20 years they look like Rideau Arcott sheep. Because the Rideau Arcott are known for multiple births we supplement the ewes and young lambs with grain and formulated mix to give the lambs a good start and reduce the strain of many mouths on the mother.