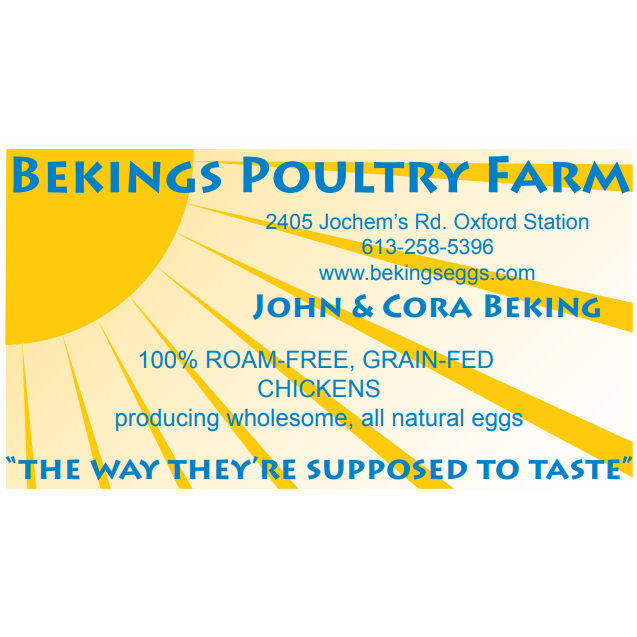 Bekings Eggs
Contact: John and Cora Beking
Address: 2405 Jochems Road Oxford Station, ON, K0G 1T0
Phone: 613-732-1217
About Us
Beking's Poultry Farm is a family owned and operated farm that has been passed down for three generations. The farm was established by Gerrit Beking in the 1960s with a small flock that he managed with his two sons, John and Albert. Gerrit began selling the eggs by delivering to homes in the Ottawa South and Kemptville regions. As John and Albert became more involved in the business, John took over the farming operation and Albert expanded deliveries across Eastern Ontario. With Albert's passing in 1998, John and his family took over both the farming and distribution of eggs.

Since 2014 Beking's Poultry Farm has started to transition to the third generation with David Beking stepping in to run the business alongside Kris Beking and Colleen Ford. Although we have grown over the past fifty years, we continue to use the same natural cage-free farming methods that our Grandfather used. We work hard each day to ensure the highest quality of life for our hens and strive to deliver the best eggs for our customers. After all, a healthy and happy hen produces a fantastic egg. We hope you enjoy our eggs. From our family farm to your fork, we hope you enjoy our eggs.

Friendly Notice: These wonderful products have been produced outside our normal catchment area, as they fill a product gap that more local producers are unable to fill.
Practices
ROAM-FREE HENS

Beking's Poultry Farm has responded to customer demands for more "naturally produced" eggs. We have been farming for over 40 years and in 2005 became a leader in the improved standards of animal welfare by converting our entire farm into lose housing. This means that we have NO CAGES on our farm. All our birds have free access to nests, perches, scratch areas to dust bathe, water and feed. We strongly believe that a healthy and happy hen gives the best eggs.

CERTIFIED ORGANIC PASTURED HENS

In addition to eggs from roam free hens, Beking's Poultry Farm has started producing certified organic eggs from hens raised in an outdoor pasture. The hens are given outdoor access to a few acres of fresh grass where they can forage when weather permits. These birds are also fed a certified organic feed that is 100% non-GMO. For more information on these eggs visit our organic page.

ALL-NATURAL FEED

We feed our hens a healthy, all-natural vegetable and grain feed without any added antibiotics, steroids or animal by-products. With a well-balanced natural diet our birds are very healthy and that translates to your eggs being the most delicious and nutritious product on the shelf.

LOCAL

Our farm is situated south of Ottawa and most of our customers are within 100 kilometers of our location. That means that our eggs spend less time traveling to you and have less of an impact on the environment through reduced transportation requirements.

CERTIFIED GRADING

Our egg grading station is certified with the Canadian Food Inspection Agency and we adhere to the farm food safety practices and standards of HACCP. We are members of the Start Clean Stay Clean program that promotes the highest standards of farming in the industry. With these programs in place you can be confident in the safety of your food every time you eat our eggs.

.