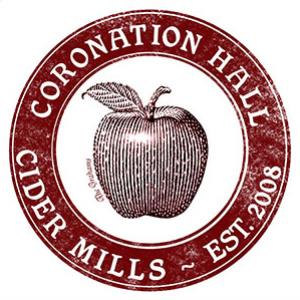 Coronation Hall Cider Mills
Address: #206 River Road Bristol, QC, J0X 1G0
Phone: 819-647-2547
About Us
Bristol Village was long a destination for summer tourists from Montreal and further afield. They would arrive on the CN train, to holiday on Bristol Beach and stay at the Pine Lodge Hotel.

The MacDougall Family, who owned the Lodge, built a dance hall between the Village and the Golf Course. To celebrate the coronation of George VI in 1937, the Hall was renamed. Over the years, touring orchestras, dances, and parties were held at Coronation Hall, making it the vibrant centre of the village. By the late 1960s, changing patterns in tourism led to the decline of the railway villages, and the Hall was closed. Over the next 40 years, the Hall was largely forgotten.

In early 2003, Third Line Orchards was established by Greg and Ronda Graham with the help of their families at the McJanet Farm – a farm that had once belonged to a branch of our family, which was later purchased by the Wiggins family, and then for many years was the farm of George Russell. We then started to look for a location where we would process the apples into high quality sweet, sparkling, and ice ciders, and could receive visitors. We learned that Coronation Hall was available, and we were able to acquire it.

In 2008 we opened to the public, and now the Hall is the summer home of the Pontiac Community Players, the site of weddings, parties, and other events. We like to think that it has reclaimed its role in the centre of the village again! With our attached bakery and cider mill, we make fresh sweet ciders, hard ciders, pies, cookies, and all sorts of great apple products! We also sell fresh apples from the orchard from August through to November.
Practices
We're a family-owned and operated farm and cider mill. Greg owns and runs the farm, where we keep 12 acres (around 1,100 trees) of apples, including Macintosh, Cortland, Spartan, Gala, Haralson, Gravenstein, Summerland, Liberty, and more. We use a minimum of artificial sprays, and we welcome visitors to the orchard during special events throughout the year - keep an eye on our website (www.coronationhall.com) or our facebook page for more details.