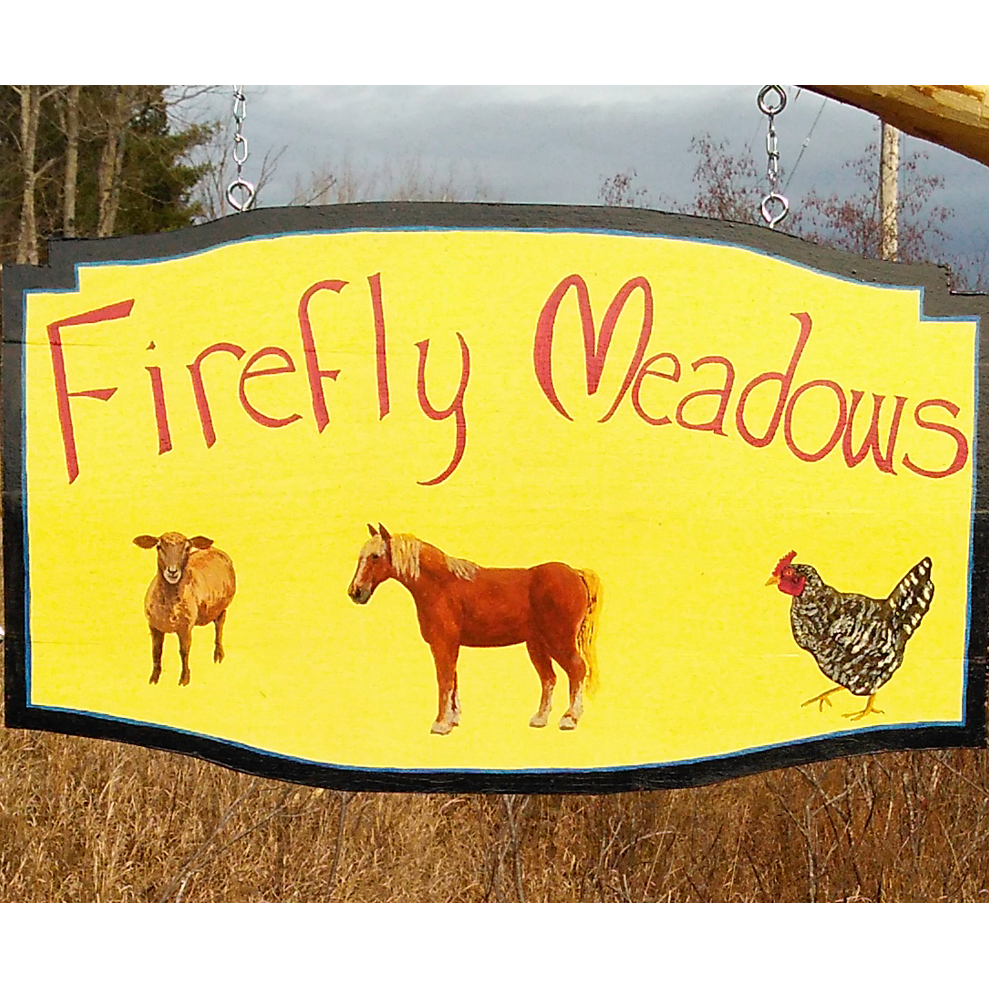 Firefly Meadows Farm
Contact: Michele and Gregg Parsons
Address: 1767 Silver Lake Rd Eganville, ON, K0J 1T0
Phone: 613-899-6100
About Us
We own a small, diversified farm situated between Eganville and Killaloe. The farm encompasses pastures, hayfields, a small market garden, wetlands and mixed species forest. Our livestock includes laying hens for farm-gate sales of eggs, organic meat birds for our own use, grass-fed, pastured Katahdin sheep for mild, lean, delicious meat, and a team of Belgian horses to help around the farm, especially in the winter. We enjoy showing visitors around the farm and discussing our farm practices.
Our farm kitchen is designed for the production of many loaves of sourdough bread, dozens of Scottish shortbread, chocolate brownies and lemon squares, among many offerings of baked goods. This is where we also create small batches of wild apple cider vinegar, garlic products, granola, and wildflower cordial.
Wood is sustainably harvested from our land and hand carved by Gregg to become functional, one of a kind, beautiful kitchen utensils such as spoons of all sizes, spatulas, and scoops.
Practices
The market garden is approximately 1/2 acre that includes annuals (all sorts of vegetables), colourful flowers for cutting, and perennials (fruit bushes, horseradish, herbs). A wide assortment of vegetables includes four varieties of garlic, twenty varieties of heirloom tomatoes, beans, peas, lettuce and salad greens, rutabaga, carrots, radish, cucumbers, zucchini, butternut and other squash, beets, onions, potatoes, melons (including watermelon), peppers, cabbages, and spinach. We don't use pesticides or herbicides but instead handpick weeds and insect pests and use light cloths to keep some insects off. Mineral amendments are sometimes added to keep the soil healthy and composted manure and garden waste is spread for fertility. Our soil is somewhat sandy so drip tape is placed in the garden beds to keep the vegetables moist without using too much water that would be required with overhead watering. Season extension is necessary because we have such a short growing season so we use cover cloths and unheated plastic tunnels to help keep the frost off the plants.
The chickens live in a movable coop in the summer, moving onto fresh pasture every couple of days so they can find a new supply of insects and grass, enjoying the sunshine and fresh air. Poultry netting allows them a large area to roam while protecting them from foxes and coyotes.
The sheep are hardy and efficient grazers, thriving on pasture plants all season and our farm hay in the winter. Sometimes they get a few treats from the garden and wild apples in the fall. They are moved to fresh pasture every day, rotated around the farm using portable fencing.
Baking from the farm kitchen allows us to include some of our own produce (such as apples, garlic and leeks) and herbs in the products that we offer. Seasonal availability and preserved harvest make delightful treats. Organic flour is offered in some of our fresh sourdough bread that is baked the morning of the co-op delivery. Both Gregg and Michele are certified under the Food Handler Training course offered by the Ministry of Health.